KEYNOTES AND FEATURED SPEAKER
Have Joyce headline your small business, entrepreneurship, or diversity and inclusion focused event!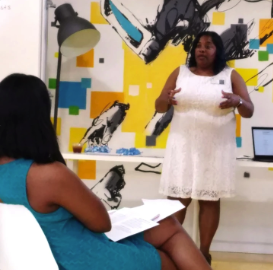 Why should you book Joyce for your next event?
Joyce is not only an accomplished professional with approximately 35 years of Booking/Accounting and business experience; she is also an experienced entrepreneur. She understands and can identify with challenges that businesses and organizations face. Plus, she grew her companies during the past recession, so she is very familiar with this challenging economic environment.
They say that the reason to give a speech is to change the world, but Joyce's mission is to empower lives. Her passion is people, and she lives for sharing her stories and teaching others how they too can make their dreams come true.
Joyce's speech will have your audience emotionally connected to laughing hysterically. She has inspired and entertained a wide range of audiences from housewives to CEO's.
Joyce is very relatable. The subject of many of her stories center around her CHALLENGES – not just her successes. Before she became the fastest "it" she was the single mom.
Joyce teaches that we all can be what we desire which is a fundamental survival tactic in this challenging economic environment.
SCHEDULE KEYNOTE COORDINATION CALL