SPEAKER REQUEST
Joyce Saint-Cyr is frequently called on to speak on topics with which she has experience and written about. Looking for an engaging speaker for your next workshop or event? Let Joyce educate and empower your audience.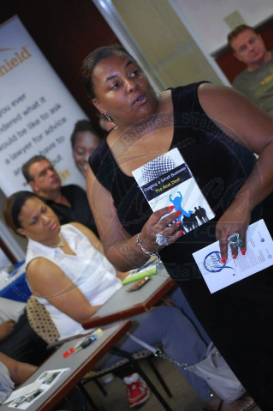 Joyce Saint-Cyr is qualified to expertly address any combination of the following topics:
Innovation for Business
Marketing Techniques
Target Market – Who's Your Customer
Marketing Techniques
Innovation for Business
Social Media Marketing
Risk and Process Assessments
Affiliate Marketing
Advertising
Public Relations
Promotions
Creativity
Internet and Website Creation (needs)
Customer service / How to make your customers successful
Change in life and business
Business Humor
Domestic Violence
Inspiration and Motivation
Note: Joyce maintains a full schedule of business obligations, workshops and events. It is necessary to coordinate schedules with Joyce, often well in advance. Please schedule a speaking request coordination call. Schedule this for as soon as you're available to talk about your event or meeting, not for the date of the event.
SCHEDULE SPEAKER COORDINATION CALL